Preschool
The first step in this school adventure is kindergarten.
The first step in the school journey is the preschool. It includes a stimulation programme allowing children aged 2 to 6 years to open up, understand and act in the world. It is divided into the following sections:
la Toute Petite Section (TPS)
la Petite Section (PS)
la Moyenne Section (MS)
la Grande Section (GS)
Children can settle into a multilingual and multicultural daily routine. They learn 3 languages: French, English and Italian. Children are supported to progressively build towards the future educational environment of the primary school, with 50% of teaching delivered in English and 50% in French.
Lundi : 8:30am-3:30pm
Mardi : 8:30am-3:30pm
Jeudi : 8:30am-3:30pm
Vendredi : 8:30am-3:30pm
& Day-care available until 5:30pm
Mercredi : 8:30am-12:30pm & co-curricular activities until 5:30pm
5 areas of competence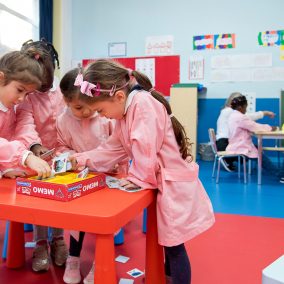 Engaging with the language in all its dimensions
reaffirms the leading role of language in preschool as an essential condition of success for all. The stimulation and structuring of spoken language skills and gradual phasing-in of writing skills are seen as priorities in the preschool and involve all areas.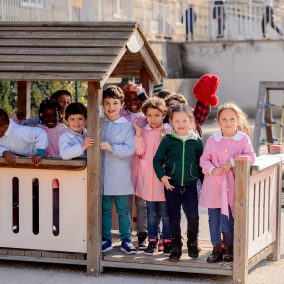 Acting and expressing themselves through physical activity
Physical activities allow children to explore their possibilities, expand and refine their motor abilities and master new balances. They help them to develop their laterality, the oriented image of their own body, and to better position themselves in time and space.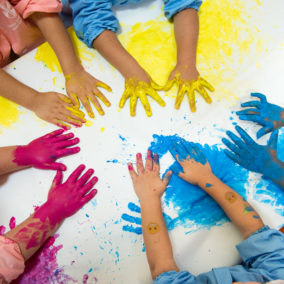 Acting, expressing themselves and understanding through artistic activities
Artistic activities allow children to develop interactions between action, sensations, the imagination, sensitivity and thought.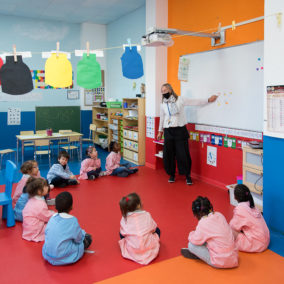 Structuring their mind
The preschool gradually leads children to discover numbers and their uses, explore shapes and sizes. Teachers present them with problems within their reach to prompt reflection.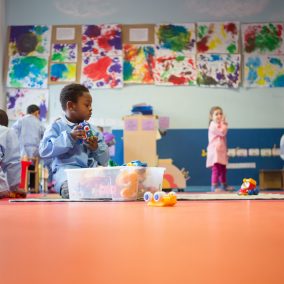 Exploring the world
This area helps children to develop an initial understanding of their environment and arouses their curiosity. Based on the knowledge they are already familiar with, the preschool sets children on a path to ordering the world around them, accessing common representations and concepts that are then further developed in primary school.
Choosing the French preschool at the ISD means:
Stimulating and developing a joy of learning from a young age in a safe and nurturing environment;
Growing up, learning and achieving together;
An adapted environment;
Discovering languages through multilingualism and cultural diversity;
A team committed to your children.
"Acting in the world" means acting with others. This is where the first classroom routines and signs of socialisation are established. The canteen offers on-site catering, stimulating taste buds as well as social interaction and constituting key moments in the 3 years of initial learning built on over the course of the primary programme.
Spiritual education is offered to children from preschool to sixth form